Stampin' Up! makes color and design so very easy.. with quality products and MATCHING papers, ribbons, and inks, you can't go wrong. Whether you're a beginner or an advanced stamper, or looking for the perfect gift...Stampin' Up! products can be delivered right to your doorstep!
Click the thumbnail to Shop Online Now!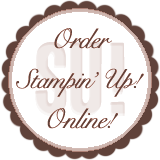 Wow! I LOVE being a Stampin' Up! demonstrator, stamping, creating, sharing and making new friends! Being a demonstrator is so much more than just stamps and inks, it's all about sharing and creating cards, scrapbook pages and gift items with new friends and old!
Online ordering is so convenient... and of course, I'm here to help with your selections, projects, or to answer any questions. (Or a little creative coaching ... your friends will say you're a genious!) Whether you're a beginner or an advanced stamper, Stampin' Up! exclusive color coordinated products are for you!
Check out my upcoming classes and events
HERE...
.
Did you know you can earn products free by hosting a qualifying workshop...
Contact me
today to book your Stampin' Up! Workshop!