Last month, I was both a host and student in Michelle Zindorf's Beginner and Advanced Brayer Technique Classes.  Although I have not had much time to really practice the techniques and discover my own version of the technique… there was one day a few weeks ago where I attempted to create an orange tree.  Living in Florida, why not do an orange tree card we do see them often!  Easier said than done!
I decided to go ahead and share this with you, not my best work… because tomorrow's post is going to WOW you.  I did learn the technique, and have managed to put my own twist on it, and am really quite happy with the results you'll see in tomorrow's card!
For my very first attempt at the brayer and sponging techniques I had learned, I decided to use the Season of Joy Stamp set since my very most favorite tree "Branch Out" was retired earlier this year (moan).  A new pencil eraser was used to add perfectly embossed oranges to the tree.  Not too happy with the results… OK, but not the WOW card I was hoping for!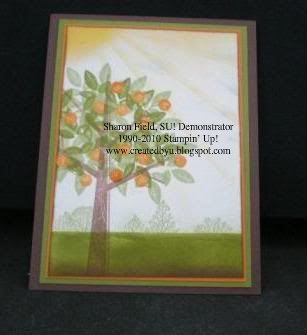 Well, you get where I was going… still some work to be done, right?  The important thing is that I didn't give up.. I've temporarily tabled the idea due to my busy and crazy schedule…  and secretly hoping Stampin' Up! will come out with a better than Branch Out set in the Next Catalog IBC 2010-2011.  Crossing my fingers!!
Check back tomorrow to see the better your best brayer and sponge technique card with a Florida / Coastal twist… I think you're going to be pleasantly surprised!