With room for 12, my personal stamp room and classroom is often in a state of creative frenzy… with paper, ribbon, and stamps piled high.  The door is often closed, and we use the Great Room for classes instead :)
The past few days were devoted to re-organizing and re-purposing the room to provide a more effective and less cluttered space.  A few items were cut from the clutter… my Cuttlebug, the old sizzix machine, some retired cardstock and DSP.  If you've seen it in it's glory, this room was quite a challenge!  Are you ready for the Stamp Room and Classroom Reveal?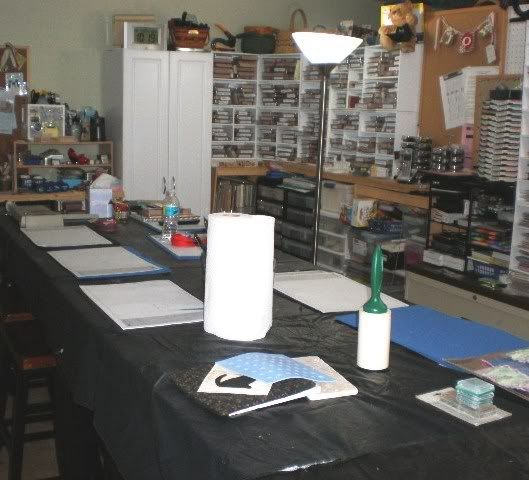 Do you see that fancy handy-dandy tool in the middle of the table?  Not the paper towels… the LINT ROLLER! 

Wow!   My DD helped re-organize and clean up before last weeks' downline meeting… and decided to use the lint roller to pick up all the tiny bits and scraps of paper and ribbon from the plastic table coverings… Wow!  What a time saver!
As you can see, I've just about run out of active stamp shelf space.  It's a good thing that Stampin' Up! now has clear stamps!  They store easily in the bookshelf.. more room for more stamps!
Here's another view… guess it's time to take down the Christmas "Joy" Banner… didn't realize it was there until I looked at the photo!
It's been a crazy couple of weeks!  Our DD has been home from Europe for a break and returns to Poland next week (she'll also travel to China in late May.)  My beginner classes at the University of North Florida were quite a hit, but creating and designing so many projects in preparation for teaching the classes has been quite intense.  I miss teaching from my classroom and will re-visit that venue as these UNF classes wrap up.
Michelle Zindorf will be here next weekend to teach beginner and advanced brayer classes.  I'm looking forward to having her as a guest, as well as learning all that she has to share!  I understand that the classes are full, and she has 'wait-listed' a few of you… it should be a really wonderful weekend workshop!
Sale-a-Bration benefits will be available for another month and a half… and I'm going to invest in some vitamin C this week too!
Hugs to all,