I play with ink and rubber stamps each and every day... I have stenciled my walls, borders and pillows, I have won blue ribbons for quilting, I have done crochet and knitting, and I have done one stroke painting.. but this is something I have never attempted (and probably never will)....
My friend Tee painted a mural on the wall for a baby's room (for those who know, it is Eva's grand child... ) and it is GORGEOUS.. the pictures do not do it justice.  Every time I think Tee is talented, she proves that I have no idea how much talent she has.. I am so glad she is part of my team and my friend...  She shares so much creativity and talent with all of us.. check out her latest mural HERE on her BLOG!!
Kind of a let down after seeing Tee's fabulous artwork.. here is the swap that I did for my upline's last meeting...  she always tells us to dummy it down, kind of difficult but I do try..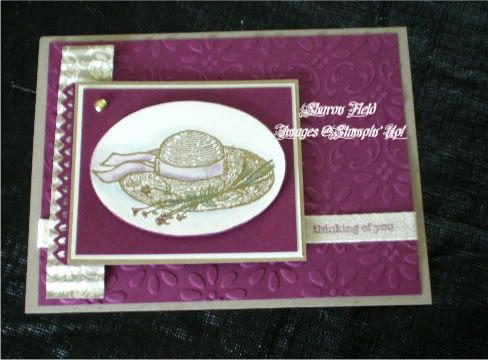 I'll share more of the swaps from the meeting tomorrow… got to get my act together here :)  I know Esther will be happy !!
Hugs