You have probably just come from Joyce's Blog… If not, be sure to click back or forward all the way through the tour until you reach my blog again!  The links are provided at the bottom of this post.
Sale-A-Bration is a great time in the SU! world, if you're not familiar with it, then you need to know that we give away FREE STAMPS!!  This tour stop will feature the elegant and whimsical FREE stamp set "Whimsical Words".
This first, in classic Basic Black and Vanilla features pop ups on the inside and out.  I used the new small heart punch from the Occasions Mini Catalog… but just couldn't make a 'black heart' card so popped the hearts up a bit with stampin' dimensionals.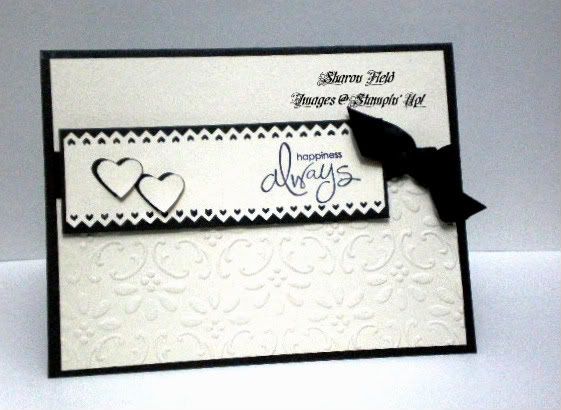 Here's the interior view of the cards.. both the words and the scalloped heart float and pop from the upper half of the card, and I've popped the small hearts again with 1/2 of a Stampin' Dimensional.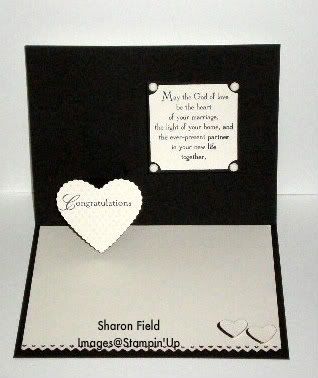 Valentines' Day is not far away… this card features the Trendy Trees Stamp set used in an unusual way… The tall, narrow tree has cut down and attached to a trunk piece from the stamp set… and one of the trees becomes the quills for the arrow too!
Vanilla Hodgepodge Hardware, and polka-dotted grosgrain also enhance the card… I love the arrow, don't you?
One last card… for a sweet baby girl…
Again, the small heart punch was used to highlight the color from the Pretty in Pink Satin Ribbon.  Here, the reverse side of the Finial Press Embossing Folder was used for the very vanilla card front layer.  And the Polka Dot Embossing Folder was used for the smaller piece, and then enhanced by dragging across my Pretty in Pink Classic Ink Pad.
Well.. I got up at 545 EDT this morning to make sure I had my cards and post completed in time for the tour… and seem to be running a bit late so I'm going to cut this short… The tour begins officially at 12noon EDT.. I hope you'll visit all the stops.. links, etc. will remain up and active through Monday.
Thanks for stopping by… I look forward to your comments!