Creative Challenges are a great way to get a jump start on crafting.  Today, I'm combining the Utah Divas International Card Layout Challenge along with the Stamptacular Sunday Challenge for non-traditional Christmas Colors.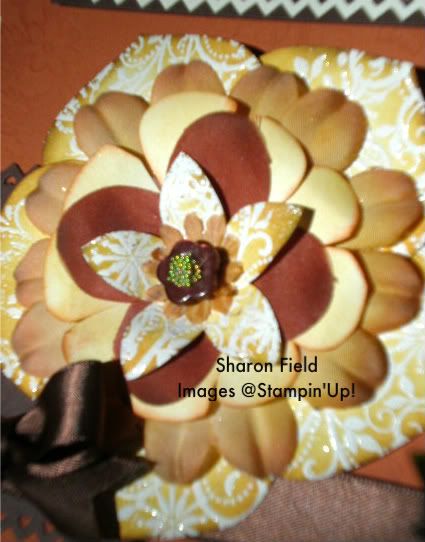 The outer layers of the focal floral image were made with the Ornament Punch (Holiday Mini Catalog)… can you guess what stamp set was embossed on the Very Vanilla Cardstock?  Hint:  think outside the box.
The layout came from Utah Divas International…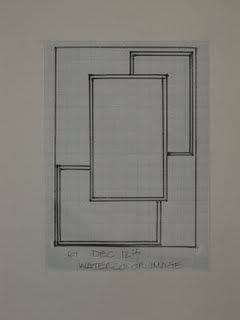 The second challenge was from the Stamptacular Sunday Challenge which mandated that we create a Christmas card in NON-traditional colors, i.e. NO Red or Green!  Those who follow me and/or attend my workshops and classes know I have absolutely no problem meeting that criteria ;) 
Long story short.. here is my entry for the challenge… using the new punches and ribbons available 1/5/09… and then current mini catalog items too (Four the Holidays stamp set, Pretty Petals Embossing Folder, and Ornament Punch).  I LOVE the Four the Holidays stamp set, hope they carry it into the next catalog in August!!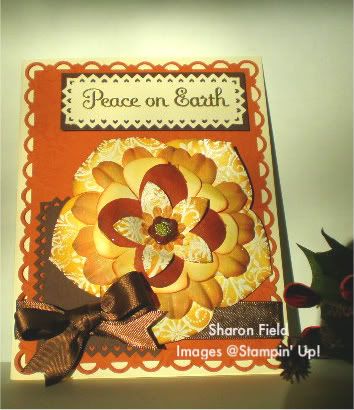 Reference NOTE: 
* Items available in the Holiday Mini Catalog thru January 4, 2010

*** Items available on 1/5/2010 in the Sale A Bration and Occasions Mini Catalogs

Stamping Supply List:
Four the Holidays (#116921)*
Snow Swirled (#111690)*
Bella Toile Background Stamp (#111598)
Card Stock:
Real Rust
Very Vanilla
Chocolate Chip
Classic Inks:
More Mustard
Chocolate  Chip
Real Rust
Accessories:
Pretties Kit (#109114)
Ornament Punch (#116794)*
Textured Impressions Pretty Petals Embossing Folder (#116824)*
Scallop Trim Border Punch (#118402)***
Scallop Trim Corner Punch (#118870)***
Pinked Hearts Border Punch (#117649)***
Pinked Hearts Corner Punch (#118072)***
5-Petal Flower Punch (#109041)
Butterfly Punch (#116629)
Latte Designer Buttons (#114333)
Bead Duo Green (#117054)
5/8" Chocolate Chip Satin Ribbon(#117287)***
No post tomorrow.. I'm posting early and twice today in order to participate in the challenges… I hope you'll check back on Tuesday for another new card share/idea… (Sorry Esther!)