Some stampers meticulously clean their workspace and throw away unused/stamped pieces and bits daily… I have to admit that I am NOT one of those stampers.  I have bits and stamped scraps and color combinations drifting all around my workspace… when it becomes too cluttered and almost dangerous, I stop to put away the stamps, ink pads, and paper… but leave the stamped bits and pieces in random piles around my work area as inspiration.
Today's card share came from a pile of inspiration… Having made This Card for the Stamptacular Sunday and Utah Divas challenge, I had one lone petal flitting about my workspace and decided it was pretty enough to be a focal point of it's very own card.
My local critic suggested these were unusual colors for a Christmas card… jeesh!  She did like the corner punch turned up with a brad in the corner, but wasn't sure about the floating piece of razzleberry "too plain" she said… Perhaps I should just keep the front door locked :) (Are you reading this Eva?)
Here's a close up of the embossed petal turned ornament, and corner…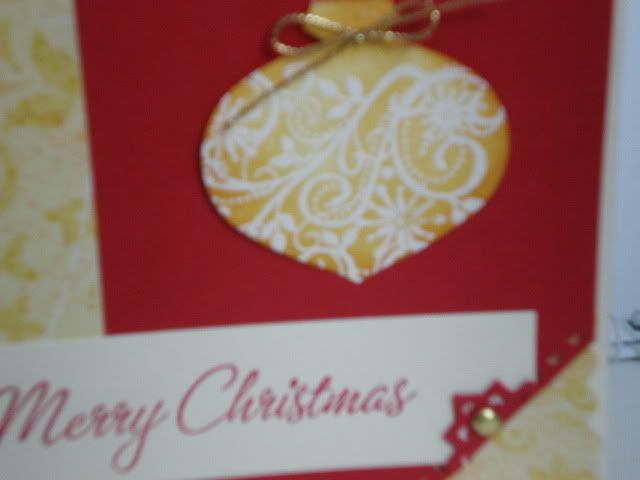 The Christmas tree from Snow Swirled was embossed on Very Vanilla Cardstock with White EP and then sponged with So Saffron Classic Ink to give it more depth… same way I did the petals on Sunday.
Sending Eva to see my Senior stampers today… I was afraid I would have to cancel due to illness, although I'm feeling better I am still doing a whole lot of coughing and sneezing, etc… don't want to contaminate them with my germs, especially right before Christmas!!  Hope they enjoy the special cards I've cut/created for them!