I know, I know.. it's not even Christmas… but while I was blurffing in the wee hours of the morning, I happened upon a site that said that Purple was going to be THE new color trend this spring…. So I just had to do it!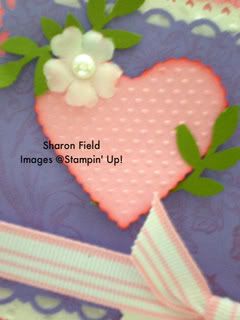 This is the cute new little Sizzix Embosslit which will be offered in the Occasions Mini Catalog on January 5th… it cuts a sweet scalloped heart image and embosses it at the same time.  The leaves are from the new two-step bird punch from the same catty too!  Are you ready for the complete card view?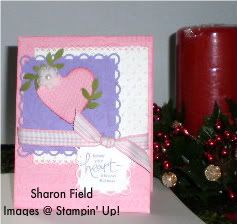 The backgrounds on each piece of cardstock were each embossed or stamped…
Lovely Lilac with Floral Background Stamp and Pretty in Pink Classic Ink
Pretty in Pink Card Stock stamped with Pretty in Pink Classic Ink and the Tres Tres Chic Background Stamp
Whisper White was embossed with the Pretty Petals Textured Impressions folder, and then a second time with the Perfect Polka Dots Textured Impressions Embossing Folder* and edged with Rose Red Classic Ink using a sponge dauber.
Stamps: 
Whimsical Words * available 1/5/10
Tres Chic
Floral
Classic Inks: 
Lovely Lilac
Pretty In Pink
Rose Red
Card Stock: 
Whisper White
Pretty in Pink
Lovely Lilac
Accessories:
Pinked Hearts border punch*
Scallop Trim border and corner punch
2-step bird punch
Scalloped Heart of Hearts Embosslit
Pretty Petals Textured Impressions Folder
Perfect Polka Dots Textured Impressions Folder
Pretties Kit
Mini Glue Dots
Stampin' Dimensionals
Striped Grosgrain:  Pretty In Pink
Sponge Dauber
Aqua painter (to tint flower)
* Items Available January 5, 2010
Hope you like my early Valentine… and now… back to my scraps!