In traditional Red and Green Colors, this Bella Toile Christmas Card really pops.  It's all about texture and punches…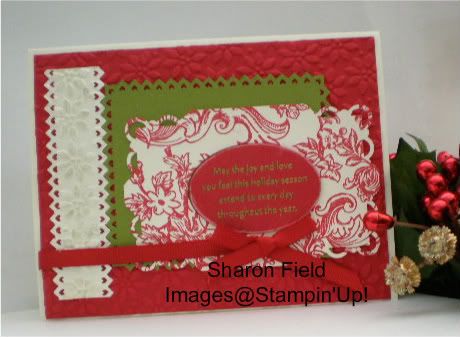 The Pretty Petals Embossing Folder (Holiday Mini Catalog) was used to emboss both the Very Vanilla and Real Red layers of cardstock.  It's easy to get a straight line of poinsettias by positioning the cardstock in the texturz embossing folder 'just so'… Champagne Shimmer paint and a sponge dauber were used to highlight the floral embossing too.  It was fun to make the two borders match up and have a bit of color peeking through too..  Here's a close-up:
I've got the FLU.. YUCK, an early Christmas gift from my DH.. and even though it is almost 80 degrees, I am wearing two layers of fleece over my sweater!  Hopefully I can knock this stuff out in a couple days… or I'll have to cancel my Senior Card Making class on Friday as I really don't want to share this stuff with anyone!!!
Remember the 12 days of Christmas Holiday Sale is still going on… there are some pretty fantastic specials.  If you'd like to order, be sure to use the SHOP NOW button at my online store… otherwise I won't get credit :)
Hugs to you all, stay warm and FLU FREE!!