Gosh, this has been some kind of flu!  I finally shed multiple layers of fleece this weekend, and dug out of latent housework.  My purple pet Dyson Animal Vacuum had a very big workout… the curtains were taken down and washed, all the pet beds were washed, the furniture dusted, the dishwasher run, finished painting the kitchen, and actually made some cookies before collapsing into bed.  I know, I know… should have taken it easy but… Christmas is just around the corner and losing over a week to the funky flu was not much fun at all!
Not much stamping going on either… but did manage to catch a "cat in the box"… this is our "little" cat… he weighs about 12 lbs and has an absolute fascination with boxes… any size or shape.  He's a little camera shy and annoyed at the flash from the camera… he was really planning on a nap.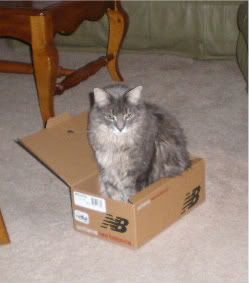 My DH got a new pair of sneakers at BJ's and just as soon as he took the shoes out… in jumps our 'little' cat.  (The other cat prefers to eat the box… tinfoil, wire, ribbon… you name it.. he's a 16 lb. garbage disposal). 
We've had this little lizard trapped in the fireplace for about a week or so… Usually my DH and I will lock the cats in the bathroom and 'catch' the lizard and release him back to the outdoors.  The "little" cat has been quite tormented by the trapped lizard though… hanging from the fireplace door handles, banging on the glass… and somehow he managed to release the lizard. 
Catching a little unusual 'cat activity' out of the corner of my eye, I realized both cats were stalking the lizard, perched on top of the plantation shutters…. yep, indoors and loose in the house.  DD would be screaming and running for the door right about now.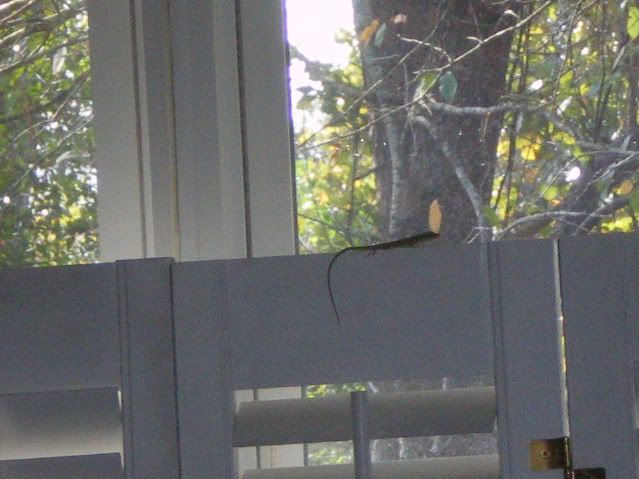 Easier to catch though, simply opened the window and the lizard obligingly crawled outside… whew!  Another lizard saved.
I guess you can tell by the pictures that we don't live in the northeast!  I really feel for all the people blanketed by the snow… my DH and I were watching all the news reports and just shaking our heads…. thankful that we moved back to sunny Florida!  Snow is great to visit… selectively, and if we don't have to go anywhere important.
Hope it all goes away quickly, crossing my fingers BIG time…  our DD is flying in from Germany tomorrow to surprise her Daddy for Christmas.  Praying she makes it home without incident or too many delays!