The Stampin' Up! Treat Boxes featured on page 159 of the Idea Book and Catalog are a lot of fun to decorate.  Easily put together, they are much larger than you expect them to be!  At 5 to a package for $3.95, they're also quite affordable!
One of my stamp groups asked if we could do a class using these treat boxes and my answer was "but of course!"…. that was last month.  So, the day before the class I suddenly realized I had to decorate the boxes too.. OOPS!  I hadn't actually made the boxes, but was walking/talking/creating them all month long… so it was fairly easy to put the ideas I'd formulated to paper. 
Here are MY box design favorites… first one a gingerbread house inspired by Julia Bettencourt and her box #2 gingerbread house.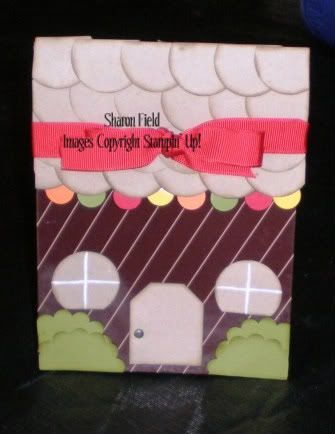 And a second box with a heart punched paper pieced tree…
All supplies are Stampin' Up! of course… even the retired Kiwi Kiss ribbon on top of the tree box (oops!)
There are five boxes in the package… so tomorrow I'll share the remaining three designs and the two boxes which the ladies loved most of all..  hope you'll check back!
Don't forget… that blog candy is getting closer and closer.  Leave comments to increase your odds of winning, read details on my 11/11/09 post.
See you tomorrow,