At techniques class, we always do at least two techniques for the sample rings and cards using the technique too!
This is one of the cards we made on Wednesday, and it features the Vellum Sparkle & Squish technique.  I was trying to come up with something "different" for my gals and in the final hour it came into being!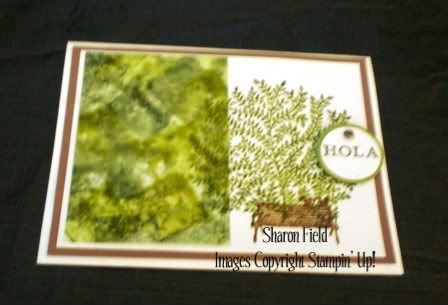 Up close, the vellum feature on this card is kind of like looking through an antique glass window on a very sunny day, and directly into the trees.
Classic Ink Stampin' Spots were used on the vellum.  The inks were applied by tapping and twisting, starting with the lightest of three colors.  After all three colors were applied, we lightly sprayed with Champagne Shimmer Mist, and then a clean layer of vellum was lightly placed atop the inked vellum to absorb excess ink. 
The wet paper was gently dried with an embossing gun, and then additional ink tap/twist layers were applied to both pieces.  Spraying one more time with Champagne Shimmer Mist (LIGHTLY)… and then allowed to dry a bit before gently coaxing to dry with a heat gun.
One of the inked vellum pieces was used for our sample ring, and the other was used on the card.  This is a messy technique, so attendees wore rubber gloves to protect their hands and skin… (hmmm… one of them could have used an apron too!)
Stampers on Wednesday also got a sneak peek of the new Sale-A-Bration and Occasion Mini Catalogs… I have to tell you they were quite impressed and can't wait for the catalog release!
Technique Supplies: 
Classic Ink Stampin' Spots: 
Gable Green
Old Olive
Always Artichoke
Vellum Card Stock
Champagne Shimmer Paint Mist  (Instructions and supplies in THIS September 14th CreatedByU Post)
Supplies for Card:
Stamp Set:  Adorable Parc (the Hispanic version of Pendant Park)
Card Stock: 
Confetti White
Close to Cocoa
Vellum
Classic Ink: 
Tomorrow I'll share the other technique we did… I'm sure you'll love the card, please come back to visit!
Hugs!