My life has been ink-redibly busy for a few weeks… and somewhere in the midst of the Christmas Showcase preparations, I missed the 200,000 hit blog candy milestone!! YIKES.. guess I don't watch that little counter as much as I should!
So.. BLOG CANDY is in order and it needs to be extra special BLOG CANDY too!  Since I missed my own milestone, I'm going to create a new one.. 205,000!  Since my Shimmer/ Glimmer Paint Recipe is such a hit.. I thought it would be wonderful to incorporate Shimmer paint into my Blog Candy too.. and some more wonderful stuff too!
Who can win the Blog Candy?  ANYONE.. I don't care if you are a demonstrator, customer, downline, or lurker.. as long as you are in the territorial USA.
How can you win the Blog Candy?  It's super easy!!  Simply leave a comment on posts.. the more the merrier… more comments, more entries.. and when the counter hits 205,000 I will submit the count to random.org and determine a final winner!
I'm sure you want to know WHAT the blog candy is… so here is a photo just for you, itemized list follows.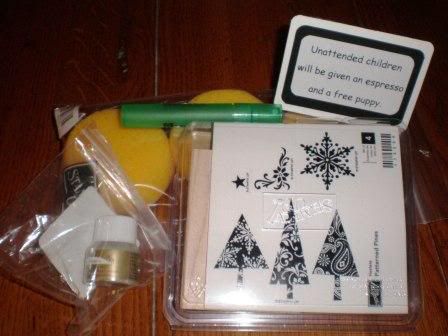 All images copyright Stampin' Up!
Blog Candy:
Champagne Shimmer Paint
Patterned Pines Hostess Level One Stamp Set
Stampin' Sponges
Mini Mister
Unattended Children Mini Sign
Simply leave a comment with your email and contact info… as often as you would like.  The winner will be picked after I reach 205,000 hits.
Hugs, and hope to see you at the Christmas Showcase Craft Boutique next weekend!