This is such a special time of year, as we gather with family and friends to celebrate the bounty and fruits of our labors.  In my own family, we are so fortunate to have been adopted by close family friends to share feast and friendship… a newer tradition for us, and certainly one we have come to enjoy and appreciate dearly.
Today, I thought I'd not only share a Thanksgiving card, but the memory of my first Thanksgiving Holiday with my sweet husband.
First the card…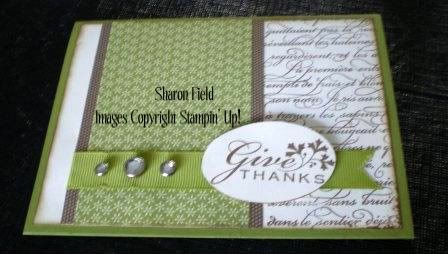 Stamps:  Holiday Best, French Script

Card Stock:  Very Vanilla, Old Olive

Designer Series Papers:  Thoroughly Modern, Merry Moments

Accessories:  5/8" Old Olive Grosgrain, Crystal Brads, Wide Oval Punch, Soft Suede Classic Ink, and Sponge Dauber
I have to revisit my own family holidays… with Grandma preparing a feast for everyone and more food than we could ever consume.  That tradition of course continued with my own Mother, who stepped it up a notch to create not only a feast but an exquisite culinary achievement complete with enough home made desserts and pies to last for weeks!
Much to my new husbands' surprise, when I prepared for our own first Thanksgiving dinner, the feast included so much food that we had to call all the neighbors to partake!  Imagine his face when I spread the table with:
A 15 lb. turkey roasted in the oven
Dressing
Mashed Potatoes
Gravy
Tossed Salad
Congealed Salad
Apple Celery Salad
Cranberry/Marshmallow/Pineapple Salad
Corn
Peas & Pearl Onions
Green Bean Casserole
Sweet Potato Casserole
Rolls and Butter
Sour Cream Apple Pie
Traditional Apple Pie
Pumpkin Pie
Pecan Pie
Cheesecake
Cookies, Brownies, and More…
Our holiday meals are much more simplistic these days… one meat, a yellow and a green vegetable, and perhaps one starch, one dessert.  We still over-eat… but we don't have to eat leftovers for months!
Wishing a happy, safe, and blessed Thanksgiving Holiday to all of you!