Don't you sometimes just make a reject or dud card?  Me too.. sometimes I am able to resurrect them into something worthwhile… but other times, we just have to bit the dud bullet!!
Last week, while prepping for my First Wednesday Card Club, the bridal paper resist technique intrigued me… simple enough to show as a WOW in a club or class, yet not complicated enough to offer as an actual technique.  Off to the stamp room I went….
YUK… the result was just Yuk… nothing seemed to work, so I trashed the card and just took a stampin' break. (sometimes you just need a break to clear the mind, don't you??).
So.. here is my Bermuda Bay Bridal Paper Resist Reject Card… and boy, was I glad I tossed it aside!  When I showed it to the club as an almost card they were much less than impressed too!  My clubbers want more wow…. you can view the card we actually made in this post for 1st Wed. Card Club….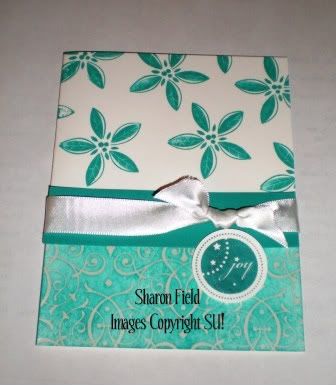 So.. what could we do to rescue this card?  Any ideas (aside from the shredder.. my first instinct). 
Don't forget to leave a comment.. we're looking at fabulous fantastic blog candy when the counter hits 205,000… you won't want to miss the Blog Candy.. Check out my 11/11 post for details!
Check back tomorrow for more Christmas Showcase Boutique shares and items.. you're going to love the ideas!
Hugs,