Do you remember that old country song.. It's a sign?  Well, it's not that kind of sign…
For the craft show, I'm also making a few journals.. not too many, it really depends on how much time I have at my disposal.  (I also make jewelry and need to work on that inventory :)  Here's one of the journals I'll have at the show.. featuring the Charming stamp set, Silver Hodge Podge, and To the Nines DSP.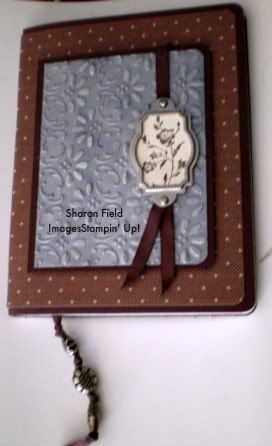 I've added some embossing… wet and dry, and a beaded bookmark… still a little plain so I'll call it a WIP (work in progress), it just needs 'something'.
Stampin' Up! Supplies:

Stamps:  Charming 116519 / 7pcs / $19.95

Ink:  Chocolate Chip Classic Ink and Versa Mark

Cardstock:  Brushed Silver, Very Vanilla, Chocolate Chip

Accessories:  Chocolate Chip narrow Grosgrain Ribbon, Finial Press Embossing Folder, Embossing Buddy, Silver Embossing Powder, Frost White Shimmer Paint, Sponge Daubers, Silver Hodge Podge, To the Nines Designer Series Paper, generic metallic beads
So… where's the 'sign' If you'll indulge me for just a moment… I'll have to tell you the story behind this one. 
At a recent stamp camp with a few professional friends who are also parents, this sign stimulated quite a positive conversation… and everyone wanted one of their own.  So… I decided it may just be an appropriate addition to my craft show items.  I hope this does not offend anyone… I hesitated to post it but was encouraged to do so by my professional friends.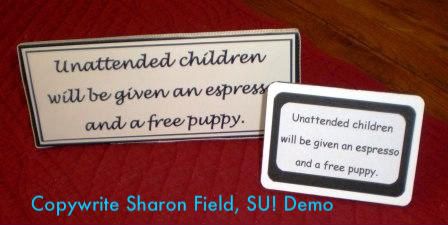 In two sizes.. the smaller 3x4 is more discreet… for those who want to have a subtle hint on their desks.. the larger sign (appx 3"x7") is a bit more of a statement.  I hope they sell!  What do you think?
Well… I'm off to make jewelry, and more cards too!  See you tomorrow (I hope).